Christopher Tock was previously the Director of Information Systems for the UK and Eire Council for Malaysian Students (UKEC) in 2005/06 and 2006/07 where he, alongside Wan Mohd Firdaus, helped to revive UKEC as a student movement and launched projects such as the UKEC Careers' Fair, Projek Amanat Negara IV and the 1st Malaysian Student Leaders' Summit 2007. He was also previously a Communication Secretary to Imperial College Malaysian Society, as well as a representative of the Overseas Student Committee responsible for liaising between all overseas society in Imperial College, London.
Hailing from Petaling Jaya, Selangor, Christopher completed his Sijil Pelajaran Malaysian (SPM) at Kolej Tuanku Ja'afar (KTJ), Mantin in 2001 and obtained straight As for A-levels in 2003 within the same institution under the KTJ Scholarship award. Later, upon graduating with a Bachelor of Science degree in Joint Mathematics and Computer Science from Imperial College, London, he started off as a freelancing IT consultant for small & medium enterprises located within London and did a complete IT makeover for JPA London before leaving back to Malaysia to embark on a set of mission objectives that makes part and parcel of his life goals.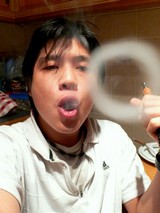 His love for sports, fun and adventure enabled him to represent West District of Seremban in Hockey for 3 years in the U-21 District championship as well as a proud receiver of the PADI Open Water Diver license. He takes interest in a myriad of hobbies including: photography, food review/adventures/trips, lion dancing (peak performance at Trafalgar Square with thousands of viewers), blogging and a self-professed techie (aka geek) at heart.
Christopher Tock recently took the leap of faith to pursue social entrepreneurship in two forms: providing strategic community-based social media solutions to celebrities, non-profits and community organizations at SocialGrooves for the benefit of social good, and working to develop a more holistic student-centric ecosystem within the country's existing tertiary education platform, the 1st in Malaysia, to spur leadership and participation among university & college students nationwide through Empowering Youth Endeavors (EYE) Project - and this was after working as a Technology Manager to WAGO, a startup ideation outfit providing word-of-mouth social marketing solutions. Prior to this, he played a role in investment banking as an e-Business development executive for ECM Libra Investment Bank, where he is part of a team heading the development of a forward-driven online share trading portal called www.ecmmoney.com. During off-working hours, he dedicates his time to the Young Corporate Malaysians (YCM) as a founding convener, organizing CEO Series for Young Professionals and advocating Teach For Malaysia, a non-profit outfit bent on making sure all children in Malaysia will have the opportunity to attain excellent education regardless of their background.
He is also an active committee member of the Imperial College Alumni Association in Malaysia (ICAAM), a Technical Consultant at RandomAlphabets.com known for their guerilla-styled pro-bono projects, an avid blogger at www.spinzer.us covering media events and his love for food, and last but not least, a social media activist dedicated to the development of the leaders of the future in Malaysia.
He can be found either via most social network sites but mostly active via Twitter (http://twitter.com/spinzer) and Facebook (http://facebook.com/christock). You may find a copy of his latest CV here: Christopher TOCK Nov 2012 CV (826)
The list below links to articles that Christopher Tock was mentioned at as well as interviews done by other media:
Digital Media Across Asia: http://comm215.wetpaint.com/page/General+-+Christopher+Tock
Judge in a Sunway University blogging competition:  http://sunway.edu.my/university/mysuccess/judges
The Malaysian Insider: Changing Lives with Social Media
theStar R.AGE: Young Guns
Bernama Breakfast Show:



Christopher Tock shares about the impact of social media in Malaysia, and how it has allowed people of similar interest to connect with each other

NTV7 Breakfast Show:




1M4U event at KLCC launched by Prime Minister of Malaysia Dato Seri Najib Razak (4:24 onwards):




Our Successors Series: 




Kini Trending Khas – Social Media effect on #Budget2013 [Secara Langsung] on Astro AWANI Ch501 (17:00 onwards):




Bisnes Alternatif (Episode 258) – Social entrepreneurship in 2012 & moving forward in 2013:



Christopher Tock on Social Media in Business on Brainstorm, Capital TV, CH 127 Hypp TV



[LIVE] 13th General Elections – Excitement of a first voter #MalaysiaMemilih Astro AWANI Ch501



Vantage Point PRU: Special series discussing on the role & impact of the young voters in the general election, Astro AWANI Ch501
Comments
comments